News
The FIA T-shirt...
You all aren't even going to believe this, but I looked in the back of a closet in a bin... and I found THE FIA t-shirt. I seriously still have this t shirt from 2006. Did anyone else buy it? I think there was a coffee mug too. I'm actually designing a t-shirt right now for a different group/fandom, and once the design is set up, it would be easy to do another one... so I was thinking... would anyone have any interest in a new FIA t-shirt this summer?? Anyway, here it is!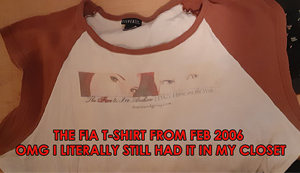 Posted by
Anise
on May 06, 2021 08:17 am (
5 Comments
)
It's been so long I'm sure mine are lost but I had one and I had a Schnoogle or FictionAlley or something.
OneOfThoseGirls @ May 10, 2021 05:33 pm
I bought one and found it the other day. I saved it because it no longer fits me.
EnchantedBelle @ May 11, 2021 07:42 pm
@OneOfThoseGirls -- I missed the Fictionalley t shirts! When were they selling them, do you remember?
@EnchantedBelle-- I can't believe how many people actually still have those shirts. ;)
Anise @ May 11, 2021 10:35 pm
I graduated high school that year so I could not afford one, but I do remember them being sold.
I just looked at my profile and that was the year I finally caved and got a membership here.
Teller of Tales @ May 16, 2021 09:19 pm
@TellerofTales: I'm so glad people remember this! :)
Anise @ May 18, 2021 10:30 am