Real name:
The Mistress of Ebil
Registered:
May 06, 2004
Membership status:
Member
Hobbies include: Being ebil, writing D/G fic, cooking, curating a comic book collection, collecting HP lego mini figs of Draco and Ginny, collecting rubber duckies, worshiping the ground Tom Felton walks on...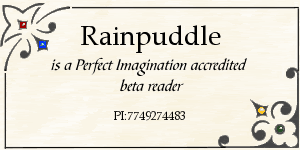 Pud's Story Reading Order:
Tangled Web Story Arc:
Tangled Web
Tangled Web: The Cookies
And Baby Makes Three
It's Hard to be a Monster
The Cabbage Capers
A Wife Takes a Malfoy Heir
Draco and the Terrible, Horrible, No Good, Very Bad Day
Fifteen Years
Growing Pains
New Addition to the Family (falls between chapters 3 & 4 of Fifteen Years)
Amici ed Amanti
The Pixie Faerie Diaries
Amici ed Amanti – Biscotti
The Trouble with Princesses
The Timestamp Meme Ficlets
Other series:
A Spot of Trouble
One Shots:
A Christmas Feast written with Lissanne
Coming Out of the Cabinet
The Games that People Play
The Tale of the Pumpkin Thief/Tis the Season
The Thief of Hearts
1.
2.
3.
4.
5.
6.
7.
8.